Terrorism
The main threat of terrorism in Finland is posed by individuals and small groups supporting far-right or radical Islamist ideologies. The number of CT targets has remained unchanged at about 390. These CT targets have extensive mutual networks and links to foreign terrorist operators. A significant part of their networking and other activities take place online and using communication applications.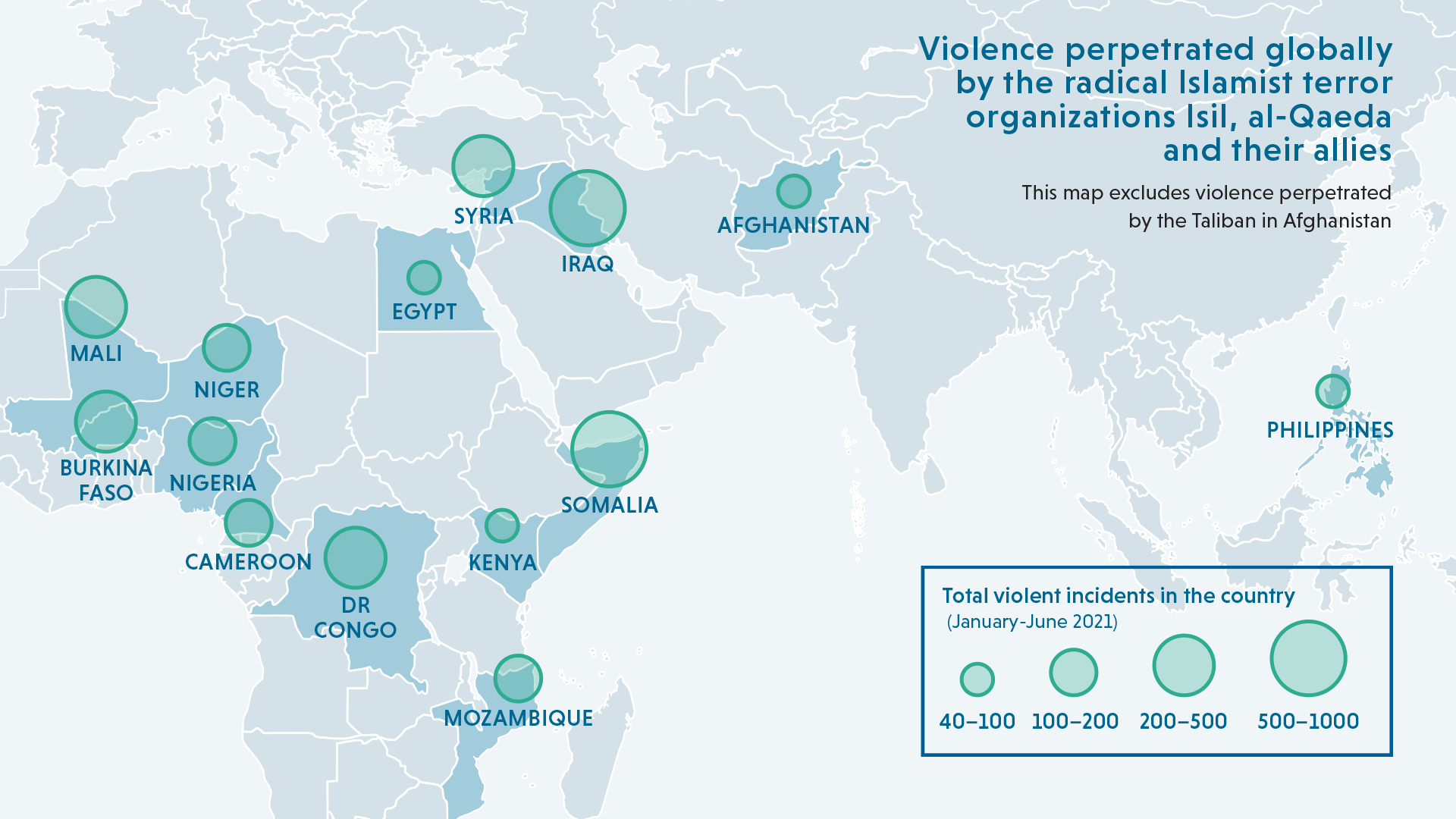 Extreme right-wing terrorism remains a threat in Western countries. The latest serious attack occurred in June, when four people died in an act of violence against Islam in Canada. Some indications have also emerged in Finland concerning the preparation of concrete action since 2019. Far-right terrorist attacks remain possible in the West over the short term, and the likelihood of an attack occurring in Finland cannot be ruled out.
The most significant radical Islamist terrorist organisations globally remain the Islamic State (ISIL) and al-Qaeda. These organisations still pose a global threat, and are also likely to inspire lone operators to mount attacks in Europe. While the central leadership of ISIL is no longer able to direct the global operations of this organisation effectively, its affiliates remain active in conflict zones and fragile states. Al-Qaeda has focused on supporting its regional wings and allies in recent years. The activities of both organisations have increased, particularly in sub-Saharan Africa. Although radical Islamist operators view the re-establishment of a Taliban regime in Afghanistan as a victory, these events are unlikely to have any direct impact on Finland's security situation in the near future.
Although radical Islamist terrorist activities in Finland mainly take the form of supporting operations, such as raising funds and disseminating propaganda and radical ideology, attacks are also possible. The radical Islamist networks of Finland have also previously recruited foreign terrorist fighters for conflict areas, and there are people living in Finland who have participated in and promoted the activities of armed groups.
The threat of far-left terrorism in Finland remains minimal. A few volunteers from Finland have travelled to the Syrian-Iraqi conflict zone to join armed organisations of Kurdish background. The operations of these organisations are mainly directed outside Finland.

Assessment
The threat of terrorism is likely to remain at level two (elevated) on the four-level scale in the short term. Individuals or small groups are interested in mounting a terrorist attack in Finland. More people are likely to return to Finland from the Syrian-Iraqi conflict zone, which possibly strengthens radical networks in Finland and Europe. Terrorist attacks elsewhere in the West may also affect the terrorism situation in Finland.
---
Description of the map
Violence perpetrated globally by the radical Islamist terror organizations Isil, al-Qaeda and their allies. This map excludes violence perpetrated by the Thalibanin in Afghanistan.
Total violent incidents in the country (January–June 2021):
Mali 200-500, Burkina Faso 200-500, Niger 100-200, Nigeria 100-200, Cameroon 100-200, DR Kongo 200-500, Kenya 40-100, Mozambique 100-200, Egypt 40-100, Somalia 500-1000, Syria 200-500, Iraq 500-1000, Afghanistan 40-100 and Philippines 40-100.
---
Probability terms used in the report
Highly improbable 5 %
Improbable 20 %
Possible 50 %
Probable 75 %
Highly probable 90 %
Time assessments used in the report
In the near future 0–6 months
Short term 6 months–2 years
Medium term 2–5 years
Long term over 5 years