Working for Supo
About 520 staff members work at Supo.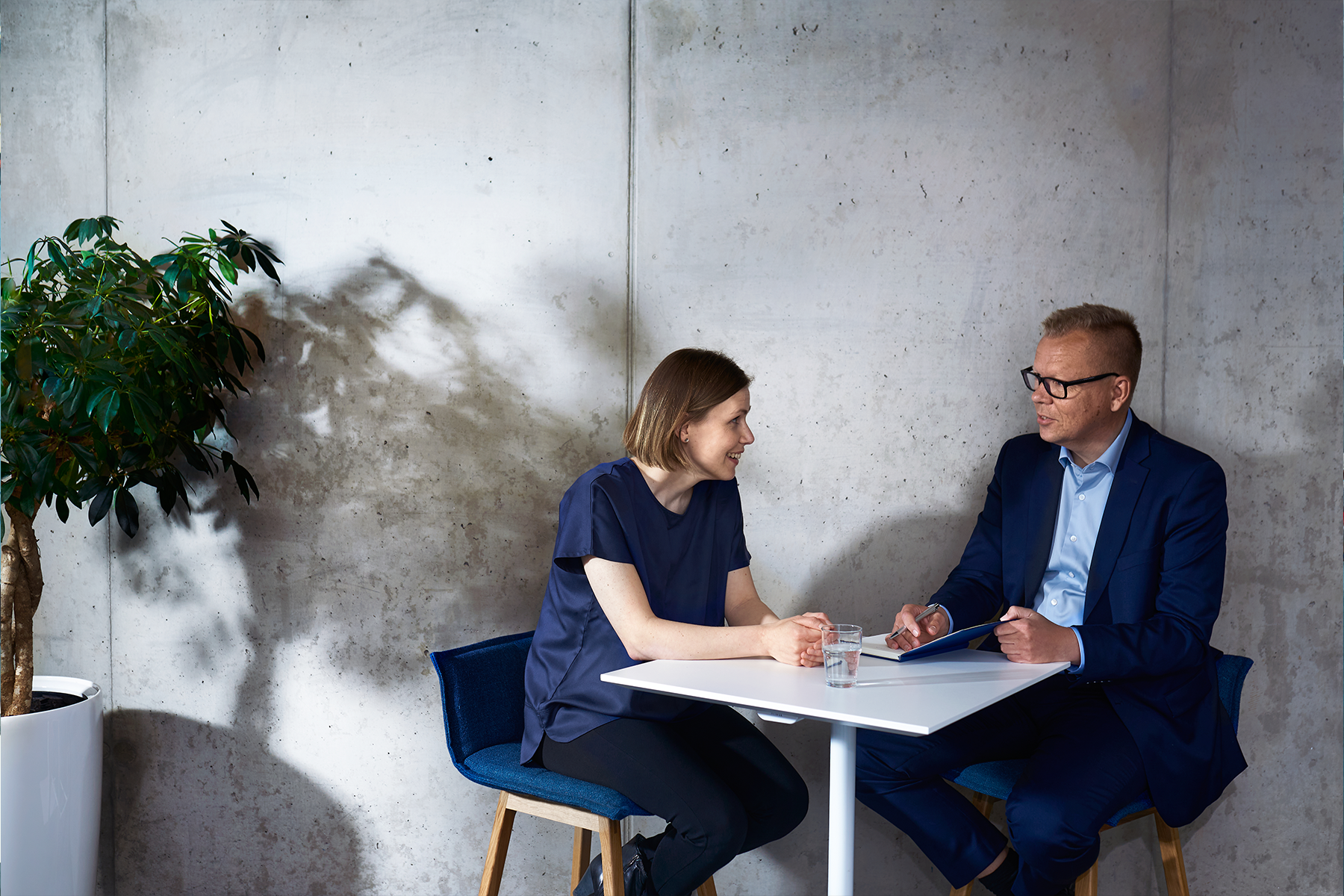 Various occupational groups include police officers, analysts, IT specialists and translators. The average age of Supo staff members is about 43 years, and around 41 per cent of them are women.
Three Supo employees talk about their work
Laura, researcher
"It's not the kind of work you see in James Bond films, but truth can often be a lot more interesting than fiction."
So says Laura, a Supo researcher who nevertheless uses a pseudonym to protect her identity and the work of Supo.
A typical working day for Laura begins by reading the morning news at home, with a large part of the day then spent gathering and studying background materials. Besides public sources, Supo researchers use in-house intelligence gathered by Supo and intelligence supplied by international partners.
At least a couple of reports are often in preparation simultaneously, while urgent situations may call for reports to be written under pressure of time, making it important to be able to produce coherently structured factual text quickly.
"We also get colleagues to read our drafts, with a view to providing clients with optimally relevant and informative reports."
The main client of Supo is Finland's top-level leadership, meaning the Government and the President of the Republic, but Supo reports also go to other public authorities.
Working with partners
Besides preparing and drafting reports, the typical working day of a researcher also includes collaborating with stakeholders. The stakeholders of Supo include other public authorities, researchers and research institutes, the private sector and international partners.
Laura finds that she always has at least one presentation under preparation on any typical workday. Sometimes she meets with small specialist audiences of a few people, but she may also address seminar audiences of hundreds at a time.
"Though I personally enjoy the human contact aspects of my job, I may equally well withdraw to my own research area from time to time, becoming deeply acquainted with issues that are hardly addressed outside of Supo."
"Anticipation is essential in intelligence analysis, so we not only record events, but also assess how aspects of importance to national security are evolving. Overviews do not emerge spontaneously. They arise through exchanging intelligence and ideas with partners and one another."
Who is not suited to this work?
"We produce materials on behalf of Supo, with reports primarily created through teamwork. This work is not suited to anyone who is seeking to build a personal reputation. Even so, we are typical information workers engaged in a creative specialist pursuit."
Antti, detective
"The job of a detective is to know things. This involves special expertise on the targets, and on their activities, networks and current affairs."
This is how Antti, a Supo detective, summarises the aim of his work. He uses a pseudonym to protect his identity and the work of Supo.
Antti's typical working day begins by processing messages and asking whether anything new has transpired.
Supo is concerned with threats to national security, such as terrorism and espionage. Such undertakings are prepared covertly, and covert intelligence gathering methods such as interception of telecommunications are often needed for investigating them.
Teamwork, arranging puzzle pieces and forecasting
Supo detectives engage in close teamwork. Antti describes a typical day by saying that some of the detectives working on an ongoing operation may be unpacking acquired materials, while others are engaged in exchanging messages internationally or preparing and conducting interviews.
He compares detective work to assembling a jigsaw puzzle.
"Intelligence does not emerge from nothing. It is the outcome of work and criticism. Nothing is taken for granted, and everything must be well-founded. Forecasting is also essential. What can we say about tomorrow, based on currently available intelligence?"
Antti's working days are varied, with an ever-present potential for change.
"The pace of a working day may be very rapid, but we also have days when nothing of note occurs.
We have to separate the essential from an ongoing flood of information and figure out when to act. A good memory and sharpness of mind are assets."
Who is not cut out for detective work?
"I can't recommend this job to anyone seeking action, stardom or rapid advancement, But smart people with an interest in the subject, a generally quick intellect and a long-haul outlook are sure to find particularly interesting duties here."
Mika, researcher
"Despite the official job title, I'm really more of an analyst than a researcher."
So says Mika about his work in a Supo operational unit. Mika uses a pseudonym to protect his identity and the work of Supo.
Mika works closely with Supo detectives on a daily basis. The varying duties and pace of work sometimes also call for flexibility in working hours.
"My responsibility as a researcher is to produce background intelligence for operational work and to formulate an overview of the intelligence gathered. Where the duty of a detective is to know things, an analyst must understand and be able to combine information into larger packages and present the results."
Mika's working days are structured according to the work situation at the time, with a large part of the day usually spent at his own workstation and exchanging information with the group.
"I enjoy the diversity of this work, and how we get to tackle interesting subjects. This job is highly independent, but I nevertheless work closely with the rest of the group. I know of no other place where work of quite this kind could be available, at least with a university background. "
Mika explains the desirable qualities in an analyst:
"A certain breadth and flexibility of thinking is essential, as is an ongoing readiness to learn new things. The job is like putting together a jigsaw puzzle of indeterminate area, where a sizeable number of pieces may be missing. You may find this quite frustrating – or interesting!"
Who is not suited to this work?
"You probably wouldn't feel comfortable in this job if you were hoping to specialise in some narrow field, or if you have a low tolerance for working with materials that are incomplete or uncertain."