Are you requesting a vetting?
Supo only performs security clearance vettings when there are statutory grounds for doing so.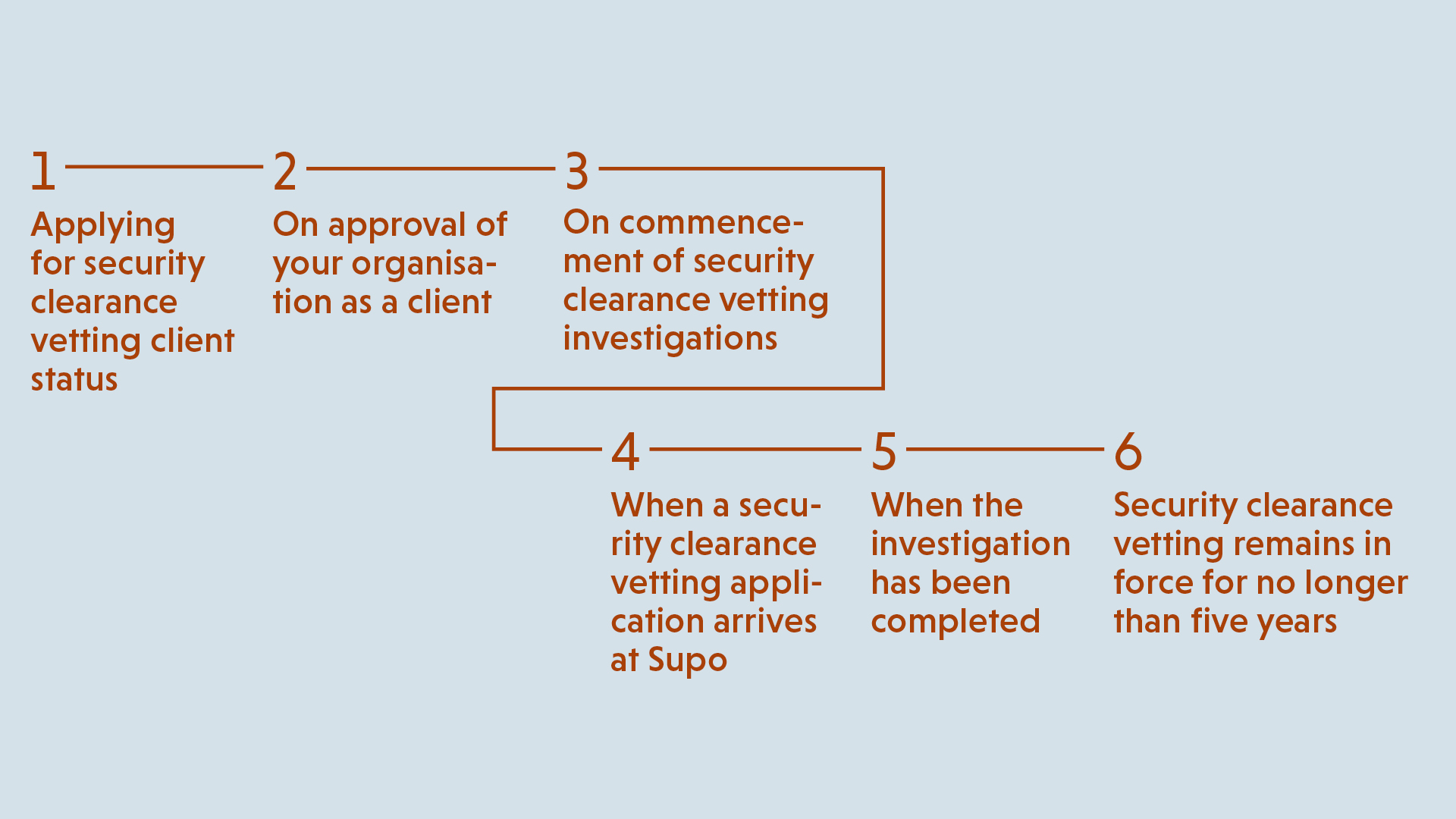 1. Applying for security clearance vetting client status
Security clearance vetting is only performed for organisations whose employees have access to premises or process confidential information of relevance to national security. You should contact Supo if your business is seeking security clearance vetting client status.
2. On approval of your organisation as a client
You will receive an information pack concerning procedures to follow after your organisation has been approved as a security clearance vetting client. Supo will appoint a contact person for your organisation to provide guidance on issues relating to investigations.
3. On commencement of security clearance vetting investigations
Notify the vetting subject of the upcoming security clearance vetting investigation and the consent procedure. The subject must give consent for the investigation. Consent is primarily given using the electronic portal, but can also be given in writing where necessary. Ensure that the employee or candidate under investigation submits all of the required details.
4. When a security clearance vetting application arrives at Supo
Supo's aim is that 90% of security clearance vetting investigations are completed within two months. Ensure that the application includes all required details. Incomplete application details and requests for supplementation may delay completion of the investigation.
5. When the investigation has been completed
Supo will advise your organisation of the outcome of the investigation. Your organisation is required to notify the vetting subject of its outcome. The investigation is not binding on your organisation, which always remains solely responsible for making the final decision on employee recruitment.
6. Security clearance vetting remains in force for no longer than five years
Security clearance vetting is valid for five years, or for the requested period. Reliability monitoring also continues over this period. A subject is required to declare any material changes in foreign interests when these have been investigated. Remember to notify Supo if the subject's employment ends.